Rails, Inc
Newsletter
May/2021
Our new web site
We're about to publish our revamped Web site (finally). Please go through it and comment as you see fit. Also: please consider writing and sending your visions and proposals for digging our country out of its eternal passenger Rail trench warfare.
If you want to move from our P-list o our E-list——Send us your e-address. It'll save us a lot of time and money, and we'll pass it on to nobody.
Don't take the Dems for granted
We believe there's a greater choice between the two major political parties than there has been in many decades. However:
Concerning the preservation and rebirth of modern Passenger Rail in America, history is not particularly kinder to the Democrats than to the Republicans. The Big Freight railroads, the auto, highway, and fossil fuel interests, the thrust of federal subsidy since the 1950's, and our American love for the personal automobile, have exerted their mixed influence on every federal administration and Congress, of any political stripe.
Although the Biden / Harris administration holds out some promise for an end to the aforementioned trench warfare, don't hold your breath. Contact all the Biggies. The League of Women Voters ( https://www.lwvnm.org ) keeps up a contact list for said Biggies.
Also, consult https://www.railusers.net for more information and Links.
We fully understand how recent events in public health and politics (and major crime) have all but buried issues like good transportation. But transportation is important as hell, not least because it lifts a lot of other issues with it as it rises. And because we're animals, not plants.
The Rail Runner (NMRX)
It's back! The Rail Runner has been running a full pre-Covid schedule as of May 24. safety protocols are still in place, and masks are still required.
While the Rail Runner was in mothballs, the crews got some real work done; to wit; they have fully installed Positive Train Control (PTC), an advanced electronic train safety system, making them compliant with federal requirements. Our train had been running since March 8, on a reduced schedule, with sanitary safety protocols in place (see the RUN Newsletter we sent out). And look for an excuse in your life to take the thing someplace.
Help Wanted
There are several ongoing jobs for which we at Rails Inc are trying to put together a Staff or Liaison Committee. They include:
### Regular monitoring of social media and various news feeds, and posting comments, replies, and questions on these;
### Sending press releases to major media in New Mexico. Also writing these, in collaboration with Us;
### Arranging for us to present the case for modern Passenger Rail and Rail transit, in person or online, at schools, churches, clubs, etc.
Connecting Albuquerque to Denver and other North-South Points (Or; our Rail Interstate) (Or; Front Range developments)
As you likely know, Rails Inc has for many years been advocating for a revival of passenger train service from El Paso to (probably) Shelby, Montana, via Albuquerque, Denver, Cheyenne, and points in between. We like to call this fantasy route "The Rail I-25". The equally fantastic train, we call the Rocky Mountain Flyer (RMF). Our article is here.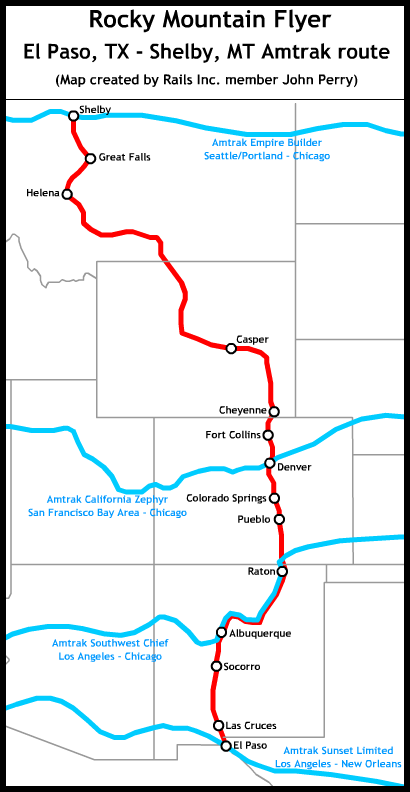 There is some exciting news coming out of Colorado which may someday enable our RMF, or something like it. Thanks to the efforts of the Colorado Dept. of Transportation (CDOT) and some long-time advocates now known as the Front Range Commission, the Front Range Rail effort is beginning to move towards reality.
Front Range Rail would connect Denver to Pueblo CO and thence South to Trinidad CO. By making the short Pueblo – La Junta CO connection, likely beginning with a bus shuttle, then an actual train on existing tracks, through-rail between Denver and Albuquerque, and every place the SW Chief goes, would become a long-overdue reality.
They're also working toward connecting Denver northward. When these connections are established (some far-off beautiful day), to Cheyenne and North, we will have … a Rail I-25, connecting all four major East-West Amtrak lines West of the Mississippi! Contact these people and express your support. They're trying to do great work.
The Colorado Sun has an article on the subject here.
Spencer Dodge, the CDOT staffer who is the liaison for the Front Range Commission: spencer.dodge@state.co.us or 303-512-4017.
Rick Klein, the City Manager of La Junta: rick.klein@lajuntacolorado.org.
There is a lot of talk lately about "High Speed Rail" (HSR), and, astoundingly, no coherent agreed-upon way to define the various levels of "High Speed"; ie, greater than 80 mph for passenger trains. In fact, "Higher-Speed Rail" is a lot slower than "True High Speed Rail". Let's see if we can clean this up:
The Federal Railroad Administration (FRA) has long ago established nice simple designations for all train speeds this side of science fiction, and of countries more advanced in transportation than we are. Our fastest conventional train speed limits are known as "Class 4"; ie, 60 mph for freight trains and 80 mph for passenger trains (See table).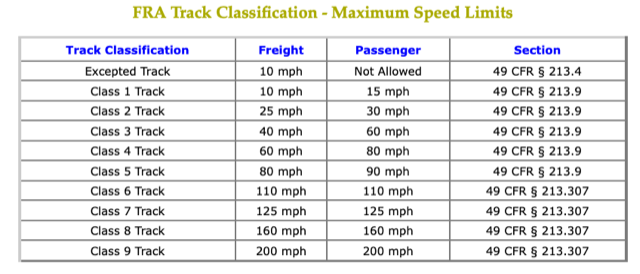 We strongly suggest that in discussing various existing and proposed passenger train speed limits, we simply use what the FRA has already given us. For example, we can achieve "Class 6" speed capability without building an entirely new track network. This is a short letter written by our JW to the Midwest HSR Coalition:
I once wrote an article called, High speed rail network? How about any rail network?. I believe this sentiment still applies. Let's restore our conventional Rail network to the reach of about 60-70 years ago, and factor in:

— renewably-generated electrification,

— modern safety technology,

— anti-tilt (pendular) railcar technology, and

— public ownership of all major track segments (which I like to call the "Rail Interstate").

A well-established, well-run, Class 4 speed limit system like this will set the stage for public desire for, and acceptance of, moving up to Class 6 or Class 7 speeds over time.